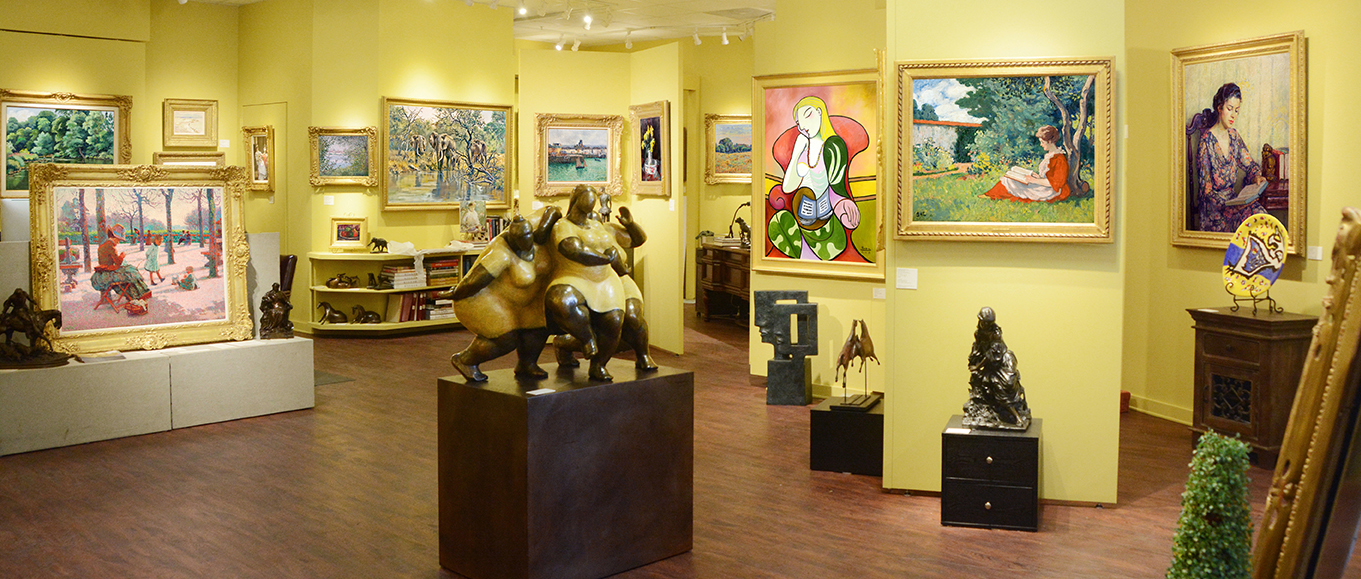 One of the largest 19th and 20th century galleries worldwide, Guarisco Gallery currently holds an extensive inventory of exceptional quality original 19th and early 20th century European and American paintings, watercolors and sculpture - now also expanding into Modern and Contemporary art. The gallery is located next to the Four Seasons in Georgetown Washington D.C., where you can view over 250 paintings from every major school within the 19th and early 20th century, including 19th-century Academic, Impressionist, Post-Impressionist, Modern and Contemporary works. Subject matter ranges from sporting pieces, marines, and orientalist works to still life, landscapes and elegant and charming genre works. The selection caters to the seasoned buyer as well as the new collector
Guarisco Gallery's buying philosophy puts top quality, condition, established artists, aesthetics and affordability at a level of equal importance. For almost four decades, we have offered works of outstanding quality and excellent condition at affordable prices by carefully choosing artists whose market prices have yet to reach their peak and whose best work (the top 10%) are still available on the market. These are sometimes artists who are overlooked, undervalued, and have not achieved the celebrity status of some of their contemporaries but who nevertheless painted superior works. Guarisco Gallery confidently predicts these are the artists whose works will achieve greater status and value in the near future.
Founded in 1980, the gallery has experienced consistent success, in spite of fluctuations in the economy. We feel that this achievement is based on the ever-increasing demand for and new interest in 19th century and early 20th century work, both European and American. Several factors account for this enthusiasm.
First, the works of this century have surpassed their centennial and with this hundred year birthday came resurgence in appreciation. There was a time in the early 20th century when Victorian Art was thought to be "out of vogue." Once relegated to basements and attics it has been rediscovered and is now desirable to a new and sophisticated audience.
Secondly, the 19th century was a revolutionary era in art history resulting in the largest, most varied and exciting body of work ever produced. The epoch witnessed the culmination of the centuries-old tradition of Academic painting, as well as the birth of Impressionism, Post-Impressionism, and the emergence of Modernism. This incredible period has finally been granted the honored place in art history it so rightly deserves.
Thirdly, more and more people are looking to the fine arts for investment purposes. Savvy clients choose to spend their money in a way that increases the quality of their lives, such as purchasing fine art. Most of our clients do not buy art as a primary investment choice; instead they choose to buy art as an alternative investment that yields a high quality of life - everyday!
But most important is availability and affordability. The top 10% of most artists' work is still available to the buyer. The best of the 19th century is still more reasonably priced than any other period, including modern. Lastly, the simple fact that the majority of the works of the 19th century are beautiful and a pleasure to live with.
SELLING YOUR ART
Guarisco Gallery is always interested in purchasing fine and important 19th century and early 20th century paintings, watercolors, and sculptures. Contact us online or send photos to:
Guarisco Gallery
2828 Pennsylvania Avenue NW
Washington DC 20007
202-333-8533
guariscogallery@guariscogallery.com