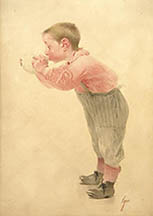 To See our Full Watercolor Art Collection Please Click the Watercolors under search by subject  tab at the top of the Page or visit: https://guariscogallery.com/browse_by_category.php?category=15
Watercolor is an amazing medium, unlike any other medium(like oil, poster, gouache, acrylic),the watercolors are meant to be painted in a manner that has transparency made by diluting the watercolor in the right amount of water to achieve both light and dark effects.
Watercolor, also known in French as aquarelle, is generally described as painting with water-soluble pigments on paper. Most commonly the pigments are suspended in a vehicle or binder of gum arabic. The classic painting technique was perfected in England during the eighteenth and nineteenth centuries. The pigment was applied in a series of transparent washes that allowed light to be reflected from the surface of the paper through layers of color. This technique gives watercolor its unique glow. Washes are layered to increase density and transform color already laid down. With this method, the colors are mixed by the viewer's eye and create a unique visual characteristic. Some of the most notable watercolorist include JWM Turner, Georgia O'Keefe, John Singer Sargent, John James Audubon, and Mohrien.
Watercolors for Sale, To purchase a fine watercolor artwork online  please visit: https://guariscogallery.com/browse_by_category.php?category=15