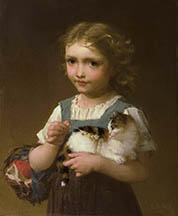 To See our Full of Academic Art Collection Please Click the Academic Tab at the top of the Page or visit:  https://guariscogallery.com/browse_by_category.php?category=19
Artistic expression underwent a marked change in the 19th century due to the rise of a new bourgeois patronage and a greater international awareness of pictorial ideas. The concept of realism was also conceived and perfected during the 19th century, opening the door to a plethora of varying subject matter. In particular genre scenes, elegant women and children, landscapes, and still life's were completed with extreme accuracy and high level of finish.
The term 'academic art' refers to the style of artwork made by artists who were trained at one of the official art academies in Europe, such as the École des Beaux-arts in Paris, the Royal Academy of Arts in London, and the Academy of Fine Arts in Munich.  At these academies, students followed a rigid curriculum based on drawing, verisimilitude, or the replication of nature, and the selection of morally-edifying subject matter. Academic artwork displayed the highest technical skills in drawing and painting and was characterized by a flawless, illusionistic finish.
By the nineteenth century, the official academies held annual highly-competitive, juried exhibitions known as salons. The juries selected artworks to exhibit that followed the tenets of the academic curriculum, including: fine draftsmanship, truth-to-nature, knowledge of historical and religious subject matter, and an illusionistic glossy finish. An artist's career was made or broken on whether the jury selected one's artwork, where it was hung on the wall, and whether or not it garnered any critical or popular notice.
Eventually artists of the late nineteenth century began to push back against the strict criteria that dictated a jury's selections, as well as against the rigid and outdated strictures of the academic curriculum. Artists wanted to use newly available materials, paint out-of-doors, choose contemporary subjects, and explore their own artistic visions. Beginning with the first exhibition of the Impressionists in 1874, followed by the emergence of spin-off, non-juried salons, such as the Indépendants in 1884, the Nationale des Beaux-arts in 1890, and the Automne in 1903, the academies and juries lost their monopoly over what constituted acceptable and official artwork, and modernism in the visual arts was born.
Academic Art For Sale:To Purchase a Academic Artwork, Oil Paintings, or Sculpture please visit: To See our Full of Academic Art Collection Please Visit: https://guariscogallery.com/browse_by_category.php?category=19